Représentation mentale et processus moteur : le cas de la rotation mentale
Mental Rotation (MR) is the ability to form a mental image of a 2D or 3D object turning in space. The relationships with motor process still remain unclear. Inconsistent results were probably due to the use of at least, two different strategies by the participants, i.e. internal or egocentric strategy versus external or visual strategy which resulted in different patterns of cerebral activations (motor region and visual regions, respectively). Does the motor regions activation reflect a motor process required for the resolution of MR problems? Or is it due to the simple planning and execution of a motor response? Is MR ability linked to professional, motor or self-experience in sport? The aim of this article is to review and analyze the main studies involving different methodological paradigms (cerebral imagery, behavioral studies), and using different stimuli (Shepard and Metzler cubes, alphanumeric characters, body parts, geometric drawings) as well as studies comparing internal and external strategies.
La Rotation mentale (RM) est une capacité qui consistè a faire tourner mentalement une image en 2 ou en 3 dimensions. Ses relations avec les processus moteurs restent controversées. Entre stratégie interne oú egocentrique et stratégie externe ou visuelle, entre activation des régions motrices et des régions visuelles, les résultats restent contradictoires. La question de l'activation des régions motrices attestant des processus moteurs nécessairesnécessairesà la résolution desprobì emes de RM, ou simple reflet de la planification et l'exécution d'une réponse motrice n'a pas encore reçu de réponse définitive. On ne sait pas non plus précisément si la capacité de RM est liéè a l'expérience professionnelle, motrice, ou sportive. L'objectif de ce travail est de faire la synthèse des publications présentant des données obtenues par imagerie cérébrale ou des données comportementales (analyse des temps de réponse, par exemple) ou alors impliquant différents stimuli (cubes de Shepard et Metzler, chiffres, lettres, segments corporels, formes géométriques), ou encore différentes stratégies mentales (interne ou externe).
Fichier principal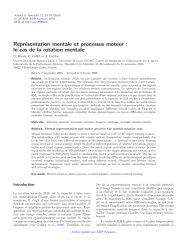 Hoyek_2010_Sci_Mot.pdf (211.97 Ko)
Télécharger le fichier
Origin : Publisher files allowed on an open archive